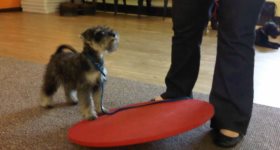 If you are hiring a dog professional who purports to have worked for  – or with  – Cheshire Dog School, in any capacity, please do not hesitate to contact us to check this, we will happily provide verification.
The Cheshire Dog School team are very proud of the first class reputation we have built up, which is based on our own very high, tested and force-free professional standards and on a philosophy of reward and not punishment. We are a small team that's worked together for quite a while and long may that continue! This is why its very important for you to check with us whether someone who says they have worked for or with us actually has, as then you can make a better informed decision about who to hire.
The following two tabs change content below.
cds
Cheshire Dog School (CDS) has taught puppy & dog training classes at a number of venues in Warrington since 2011, as well as private 1:1 lessons, Telephone & Skype training. Additionally, we operate the Kennel Club Good Citizen Dog Scheme and run various events, workshops & seminars.