Here is a selection of client testimonials we have received:
---
Ian Matthews gave 5 stars on Facebook:
"We have just finished our third 1-2-1 training with Ami, I can only say her techniques and skills are amazing.
Colin our Frenchie attended the puppy foundation class and that was a really good grounding for us all but we wanted a little extra advice and guidance to try and iron out some of the habits the pest had.
She soon had the measure of Colin and offered us all great tips and sound advice how to deal with the minor issues we had been having.
I cannot recommend enough the services of Cheshire Dog School."
---
Lovely words from Clare K on facebook:
"We have just completed the puppy course with our dog Arlo, he has absolutely loved the course and learnt so much from it, we have also really enjoyed it and it's been great to see Arlo and the other puppy's develop over the 5 weeks.
If you are looking for puppy classes or any form of dog training we would highly recommend Cheshire dog school, Ami is brilliant.
We are already looking forward to the next classes and all that Arlo will learn."
---
This is what we like to hear – from Nic B on Facebook:
"Our puppy has learnt so much. Thank you. It's well worth doing"
---
We love this feedback from "Thelma and Louise" on Facebook:
"Thelma has just completed the Puppy Foundation course and it was fantastic. We got so much useful and practical advice as well as lots of practice on basic skills. These have been essential for Thelma to settle in so well at home and be as well behaved as a puppy can be.
I would really recommend this course! Thank you so much. We will definitely be back."
---
From Michelle on Facebook:
"I want to say a huge thankyou to Ami, Tiger and Kiri for help with Tatty.
She is showing so much more self-control and the change in her is amazing even though i know that it will take a lot more training but we now have the knowledge to carry on with it.
Ami is fantastic her training techniques are so helpful and we would recommend her to everyone, well done Ami M xx"
---
From Racheal on Facebook: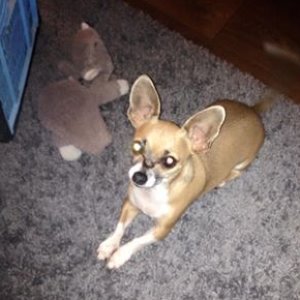 "We contacted the Cheshire Dog School to begin some 1:1 training with our 3 year Chihuahua who was very anxious and stressed.
We had booked Ami for three sessions initially but after seeing such an improvement in such a short space of time we have decided to carry on with the training.
Ami has been a pleasure to work with and has extensive knowledge and expertise in this area. I would highly recommend the Cheshire Dog School and our experience with Ami has been both beneficial and enjoyable."
---
From Paul & Chris:
"We contacted Cheshire Dog School as we felt we needed the expert guidance for our 10 week old Staffy puppy, Tia, and that a 1 to 1 home visit would best serve this. Tia was a real handful and we did not seem to be making progress on the basic commands. and we just felt generally lacking in the knowledge to make the right decisions.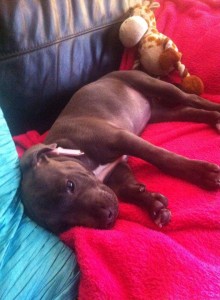 Ami visited us within a couple of days, and I can only say that was the most productive hour I have spent in a very long time. A general chat put our minds at rest regarding several issues such as where she sleeps and separation, and Ami then proceeded to teach basic commands, specifically crate training – within minutes Tia was staying in the crate with an open door, but what really amazed us was the intensity with which Tia approached learning and obviously enjoyed it.
We learned so much useful and practical information from Ami in that hour and now feel able and excited to take on positively developing Tia, knowing that the required expertise is available should we hit difficulties.
I wouldn't hesitate to recommend CDS, their services are such a small price to pay for seeing our "babies" develop into happy and obedient adult dogs."
---
Praise from Laura, Carl and Blake:
"We can't describe how thankful we are to Mike and Ami at Cheshire Dog School. We rehomed our Jack Russell Blake, when he was 9 months old, not knowing his history.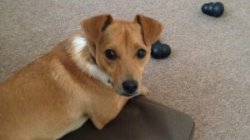 Blake had a list of behavioural issues including aggression towards strangers, picking up anything and everything when out on a walk, and very poor recall in our home and out and about. The most worrying being his aggressive behaviour around my mum, which led to possible dangerous situations, which were a cause of distress for myself and my mum. But after two 1-1 sessions with Ami he is now completely comfortable around her, and she is confident enough to walk him!
Ami was fantastic and when one approach didn't work, she always had different approaches to suggest and made us feel at ease and more confident in dealing with Blake's difficult behaviour. Blake also attended the Adult's Beginner class, and after one class we thought Blake would be thrown out and we wouldn't be invited back!
But Mike and Ami were always positive, supportive and patient with Blake, and us, giving us with strategies to manage his behaviour. In the first session Blake constantly barked and displayed aggressive behaviour and by the 4th week he could walk around the room minimal reaction and stay in a lie position whilst other dogs walked around him! Something I would have thought impossible in week one!
I really can't thank Cheshire Dog School enough, as at one point we weren't sure whether Blake would have a future in our family and now we can't imagine our lives without him! Not only have they helped Blake and given us strategies to deal with his behaviour, but also helped us to understand why he reacted that way and to read his behaviour. We now embrace Blake's cheeky personality and look for ways to channel his energy.
It has been an education for us and Blake, and we intend to continue attending classes at Cheshire Dog School for as long as they will have us! We can't recommend Cheshire Dog School highly enough, and now recommend them to every dog owner we meet!"
---
Tess Stammers says:
"Ami and Mike are patient, understanding and calm. They are good communicators who also listen well, and respond with thoughtful, useful advice.
My dog and I have benefited immensely from their training methods, I now have a dog I am proud of and can take anywhere, knowing that he will respond to me in all situations. We have been through the basic puppy classes, the more advanced adult training classes and some of the agility classes, all of which were managed with the same calm approach, but always fun for both canine and human participants. I cannot thank Mike and Ami enough for their help."
---
Kathryn Bold said on facebook:
"We would recommend Cheshire Dog school to anyone. Boston's problems wasn't something that could be fixed over night, Mike and Ami gave us lots of strategies to help him and us which we still work on today and will continue to do so; x"
---
Kind words from Karen Peploe, on Facebook: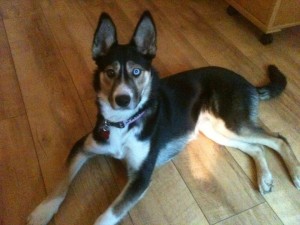 "I used Cheshire Dog School when I acquired my rescue Husky/Collie Cross and cannot thank them enough for the 1-1 training I received.
Not only was it a professional service but after observing my girl and her energetic ways they taught and advised me on recalling her. We also did some agility exercises and confidence building.
We have never looked back and Iris's behaviour has gone from strength to strength. I could not have achieved this high standard without their help. If in doubt call them out – you won't regret it."
---
Rachel Atkin:
"Fantastic team who understand the needs of dogs and owners. Positive reward based training through fun and enjoyable classes.
Both Mike and Ami are approachable and non-judgemental and are very good at training us the owners to do the best we can for our dogs.
Whether you are looking for basic command training or a more advanced class Cheshire Dog School offers it all."
---
Geraldine from Warrington says this about our Home Training Package:
"Having recently lost our 14 year old Labrador, getting a new Labrador puppy was quite a shock to the system. We asked Ami to come to our house to do some individual training with us and Ruby. Her approach is very much geared towards how a dog thinks and responds to various techniques, which we found enlightening. We had three hour long sessions at a time to suit us, and this gave us plenty of time to be shown training techniques as well as asking specific questions relating to our puppy.
We are now putting the advice into practice and Ruby is already doing well, We would recommend the private lessons as they are convenient and focused solely on you and the dog – they can be geared to your individual concerns. Ami is very knowledgable and a very pleasant person to invite into your home."
---
Amy from Sandymoor, Runcorn said:
"Very proud of my little Mutt, his first train ride went smoothly and without trauma-thanks Ami Sekhon and Mike Markey for giving us the skills and confidence to brave a train journey with a dog; the last time Muttley went in a train he panicked, slipped his lead and ran away!"
---
Vicky Lawless:
"Just finished our first set of puppy classes and enjoyed every minute of it, Ami and Mike are fantastic x"
---
Gemma and Andy from Frodsham wrote on facebook: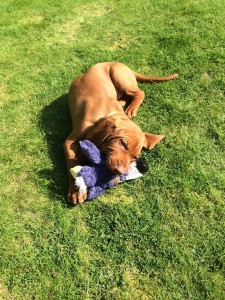 "We would highly recommend Ami from Cheshire Dog School for 1:1 training sessions. We started with a "New puppy home visit" for our Vizsla puppy, Basil, when he was 10 weeks old and were so impressed that we have continued with regular sessions since. We have benefited immensely from her individual, professional attention to allow trouble-shooting problem behaviours and training difficulties early on. Her advice and recommendations have been simple, practicable and, most importantly, successful – with each session we can see significant progress.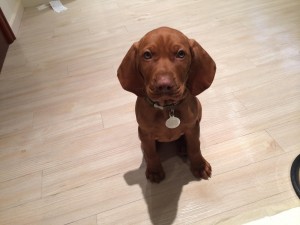 Her methods vary depending upon the individual and this focus produces rapid results: we recently spent a week trying to train a particular action following a variety of recommendations from books, Ami watched what we had been trying, worked out why we were struggling and rapidly found a solution to the problem. She explains things clearly and calmly. Our quality of life has been vastly improved by Ami's recommended techniques for encouraging and reinforcing good behaviour at all times.
She is always punctual, and has a very professional appearance and demeanour"
---
Parminder Tatla:
"Met Ecko, Kiri and Tiger. Such amazing dogs! Learnt heaps and will endeavour to rehabilitate Wilbur (not my husband!). Bought Ami's book "Your new puppy" on Amazon. Great tips and very good value for your money."
---
Vicki, owner of Luna the 15 week old Beagle puppy, said after a home visit:
"We both learned lots and Luna enjoyed every minute of it, we can't wait for puppy class to start on the 25th. Thanks so much Ami x"
---
A testimonial from a recent private lesson:
Chip would get very over-excited on walks which would result in him mouthing and biting his owner. He also had trouble focusing when there was other dogs around:
"Hi Mike! Just thought I'd check in and tell you how Chip is getting on! I went and bought a new lead and collar straight away and he is now loose-lead walking about 80% of the time. We had o…ne more biting episode, but since Sunday this week we have had a huuuuuge improvement in him – mostly from teaching him the 'touch' trick, which he loves . His recall is suddenly brilliant and we are using that when other dogs are around to keep him focused! So all is going well – still a long way to go, but we are getting there! He even waits at the door for us to go through. I'll keep in touch, looking forward to getting him to classes eventually . Thanks for everything! Beth, Craig and Chip x"
---
A quote from a recent home training visit:
"'I can see the techniques you use really do work'. So rewarding to see such a change in a dog over just three home visits"
---
Miriam – owner of Benji, said:
"Just to say you guys are brilliant at teaching us so we can teach our doggies; really love bringing Benji boy to classes and he loves it to xxx"
---
Feedback from a family who recently attended our Adult Beginners Obedience course:
"We recently attended your adult beginners class in Warrington on a Monday evening and found the classes excellent and very well organised! We gained a lot from it as it taught us as owners a heck of a lot, we would love to continue further training"
---
Christine Perry says: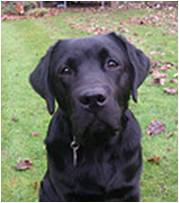 "Ami and Mike are fun, friendly, approachable and completely committed to offering the best training for dogs and owners. The range of classes means that they can cater for every type of dog, from puppy to adult, active to not-so-active.
My dog has progressed from a mad adolescent to being a dog that I am proud to take to classes, and an added benefit is the friends that I have made along the way.
If you only pick one dog school, pick this one."
---
Some lovely feedback from owner called Kayley:
"Thank you for the great puppy class my dog has just finished. What a change in just 5 weeks! Will definitely be back for the follow on course"
---
Some feedback via Twitter about Improvers class where we tried an alternative method for loose-lead walking:
"@UkDogSchool Thank you for the brilliant loose lead training last night. On this mornings walk Lola did not pull once! Amazing result"
---
Feedback from Carol on our Home Training Package:
"We have just finished our one to one training package and we would like to thank Mike for his wisdom and patience. We are already reaping the rewards, Millie (our giddy Lab) is much more focused and responsive on our walks and this continues to improve. We have worked on walking in busy areas and Millie is learning to ignore distractions, (very difficult for such a sociable Lab) but consistency and persistence are definitely working! You addressed all our problems and pushed the training even further to challenge Millie and she is enjoying every minute. We are looking forward to starting our improver's class."
---
Feedback from a family who recently attended our Adult Beginners Obedience course:
"We recently attended your adult beginners class in Warrington on a Monday evening and found the classes excellent and very well organised! We gained a lot from it as it taught us as owners a heck of a lot, we would love to continue further training"
---
Thanks to Claire, Buster's Mum for this review:
"I have taken buster to Cheshire Dog School for over 2 years and he loves every minute of his training. I bought my daughter a puppy in the summer and they have been to classes since Fletch (the dog) was old enough, all the trainers have been amazing with my daughter aged 9 and both child and puppy have grown to be an excellent team. We couldn't have done it without the dog school and their fantastic trainers :O)"
---
Thank you to Ellie for putting a smile on our faces:
"Couldn't ask for 2 better dog behaviour coaches. Not only to they help train dogs to behave but also train owners like me to understand and communicate with their dog! I will always be a proud client and patron of CDS xxx!"
---
Heather Thomalla says:
"Thank you Cheshire Dog School for a fun filled distraction workshop today. Learnt lots of good tips and guideance on how to better deal with distractions and situations. Alreading putting into practice and reaping the rewards which is resulting in better doggy manners, less anxiety for me which means more enjoyment for us both when were out and about!"
---
Recent feedback on our Puppy Foundation Obedience courses:
"Really good course for socialising our puppy. Not too overwhelming with content and easy to continue training at home with handouts provided. Venue good and easy to find. Trainer very friendly. Would definitely recommend."
---
Loulie Secker says:
"I think your lessons are starting to work! Almost 100% recall in the dog park at lunchtime – there were at least 5 dogs for Minnie to play with rather than listen, but she came back to me (or was it the chicken?). Really pleased!"
---
A quote from a recent home training visit:
"'I can see the techniques you use really do work'. So rewarding to see such a change in a dog over just three home visits"
---
Thank you to Claire and Dexter pup for this great testimonial for our Home Training Package:
"We cannot recommend Cheshire Dog School enough. Professional service that performed absolute wonders with our young pup, and has give ourselves the skills to carry on the the training with the dog. Excellent."
---
Mary and Darcy: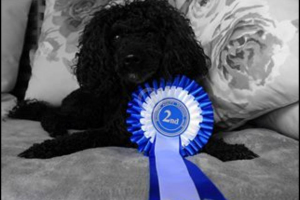 "One year ago today Darcy & I entered our 1st ever agility competition – if someone had told me then that today we would be running at Grade 6 just one win from Grade 7 I would never have believed them.
Today we came 2nd in Graded 5-7 Agility – little did I know then that 0.06 of a second would mean so much!! Enjoyed every second of it with my little star"
---
Clare Marie Johnson says:
"Just had the best time with Cheshire dog school, I haven't trained buster with a clicker before, I must say he really enjoyed it – big thanks to Ami & Mike"
---
Louisa says:
"I just wanted to let you know how much we enjoyed Puppy classes. My son William and his Border Collie Boosh both learnt a lot."
---
Pat Mac wrote:
"Recently acquired a young Lab /Collie cross who had had very little done with her and whose behaviour was totally manic. Three one to ones with Mike and 2 weeks into Adult Beginners she is a different dog. Still loads to do but thanks to Mike and Ami for all the tips etc. Brilliant training methods and Penny is totally in love with Mike !!"
---
Louise Badger wrote:
"Our dog Cracker loved Cheshire dog school and we found the training really useful and helpful. Ami and Mike were fun and easy going and we came away feeling a little more confident and keen to try new things."
---
Pat said: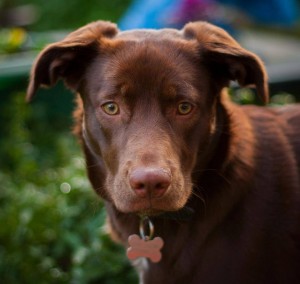 "Just finished three 121's with Mike to try and sort out a few issues we were struggling with.
Penny came to us as an eight month old Collie/Lab rescue dog who had had little or no training. We attended Adult Beginners and then moved on to Adult Improvers. We found these classes transformed a wild and unruly dog to one who responded well to training. As she grew in confidence, we found that loose lead walking, recall and a small amount of resource guarding needed work. As we had been so impressed with the three 121's we did with Mike when we first got Penny, we asked him to do 3 more with us. The bed guarding was sorted in the first session, the loose lead walking is improving by the day and we actually let her off the lead in the local woods for the first time on Wednesday when Mike was with us, OK, so she went in the stream and got filthy but she did come back and the lesson was a lot of fun.
Mike teaches in a calm, reasoned manner and you can see the thinking behind every method he uses. It is a pleasure to invite him into your home and his sense of humour make lessons a whole load of fun. There is a lot of Collie in Penny so she will need firm training methods but the reward based training Cheshire Dog School deliver is proving very successful and Penny is now a work in progress.
Mike has given me the confidence to believe in myself when working with Penny. The Halti has gone in the drawer and the Good Citizen Bronze award is on the horizon.
I would not hesitate to recommend Mike and Ami to anyone needing a trainer they are both brilliant trainers and lovely people who get results. Our Vet now displays their poster in the waiting room as she can't believe the difference in Penny since the day she nearly wrecked the waiting room on her initial vet check visit.
Thank you so much Ami and Mike."
---
Feedback just received from Carol, who has just got a new puppy and was having a few little problems introducing her older dog to him: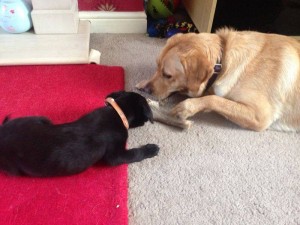 "Fantastic advice Ami, time outs worked a treat and I used door control before I let Millie back in the room, she has responded brilliantly.
I spent hours last night searching numerous websites till 1 o'clock in the morning searching for some tips on how to manage Millie's over enthusiastic behaviour when meeting our new pup Max but I couldn't find anything of any use.
Your message this morning was like a lifeline and Millie is now much calmer around the pup. Everyone at class knows how giddy Millie is but you would be pleasantly surprised at her transformation, she is much calmer now and is even showing little Max how to play. She has even left the pup in peace to have a sleep on the fireplace and sat nice and watched him eat his lunch, this is fantastic progress.
Thank you sooo much x"
---
Praise from Martin:
"I can't praise Cheshire Dog School enough and in particular Ami. I contacted them recently having looked at lots of websites and been impressed with theirs. From the outset Ami was understanding and patient on the telephone and I immediately booked three one to one sessions for Jim my rescue dog.
He wasn't bad just needed some help and I'm no expert, by the end of the first session I could see results and Ami was kind patient and non judgemental she is a joy to deal with and Jim loves her. I would recommend Cheshire dog school to anyone for friendly and professional dog training and advice you cannot go wrong!
Thanks"
---
Lynn G gave CDS a 5 star rating on facebook:
"Colin (French Bulldog pup) and I have just finished the puppy foundation classes. Definitely worth booking as it was full of fun whilst getting so much helpful and practical advice which with continuous use works a treat and changes the way you and your pup do things for the better. So pleased we went.
Thank you so much."
---
Calvin M had this praise on facebook:
"Just finished the puppy foundation classes with Freddie and what a difference it has made. The classes are fun and the trainers are fantastic at what they do! I was amazed how fast they learnt all the dogs names and Freddie is made up with his graduation goody hamper"
---
Lovely words from Julia B on facebook:
"We have been with Rocky to both Puppy classes and Intermediate class. We have all learnt so much, and he has come on a lot over both classes.
We would recommend both classes, Ami is great at teaching and demonstrating the activity, which helps when we do it with Rocky!"
---
Kathryn S had this to say on facebook:
"Ami, and the rest of the team at Cheshire Dog School, are truly wonderful. We took our 12 week old Miniature Schanuzer Schmidt to the Puppy Obedience Foundation course and it was fantastic! We all learned so much and we could see progress every week. We continue to build on what we learned and Schmidt is a better puppy/dog for it.
We highly recommend Cheshire Dog School – professional, friendly and competent."
---
From Nikki Currie:
"As entirely inexperienced puppy owners, we asked everyone and anyone for recommendations for training, for us and our new lively puppy! Cheshire Dog school came highly recommended.
Since then we have loved learning with Ami, we've completed the new puppy classes, had a 121 and have almost completed the intermediate course. Ami's calm style, immense knowledge and well structured sessions have been brilliant for us.
I recommend Cheshire Dog School at every opportunity."