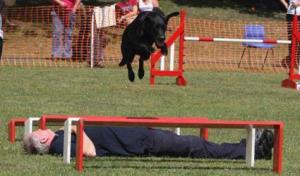 Our fun Festival to launch our new Puppy classes at Runcorn's Weston Primary School was a huge success back in July.
The weather was "changeable" but that didn't stop all the dog owners who came along with their "best friends" from enjoying the activities.
We had fun agility displays, various puppy and dog classes, trade stands, doggie scurry, dog grooming demonstrations, a homemade cake stall and even official testing for one of our Kennel Club Good Citizen Dog Scheme groups.
We are really grateful to Weston Primary School for allowing us to use their field and building for the festivities.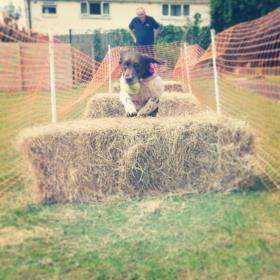 The purpose of the day was to make our clients and the public aware of our new Runcorn-based Puppy Training Classes – and our new Runcorn based Adult Dog Beginners Classes, in the form of our Puppy Foundation Obedience course at Weston Primary School, Runcorn (WA7 4RA).
Puppy Training starts on Wednesday 25th September 6:30pm – 7:20pm; then from Wednesday 9th October we'll also have the Adult Dog Beginners Classes 7:30pm – 8.20pm. We expect to progress to the Good Citizen Dog Scheme in the future!
Have a look also at our "About Page" to find out just how qualified, experienced and successful we are to run this course – it's important to ensure your trainer has all the right qualifications and has the right attitude to training your puppy. Our courses are based on reward (and fun!) and not on punishment – and the testimonials from our clients speak for themselves.
The following two tabs change content below.
cds
Cheshire Dog School (CDS) has taught puppy & dog training classes at a number of venues in Warrington since 2011, as well as private 1:1 lessons, Telephone & Skype training. Additionally, we operate the Kennel Club Good Citizen Dog Scheme and run various events, workshops & seminars.