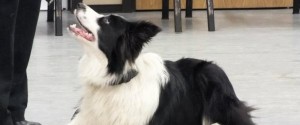 Bronze, Silver and Gold classes are all available at Cheshire Dog School; we are proud to have gained Kennel Club status earlier in 2013 and we operate the scheme from our Warrington base.
Dog Training schools cannot operate the Good Citizen Dog Scheme (GCDS) without approval and certification from the Kennel Club itself. This is something you, as a responsible dog owner, can check when choosing your trainer.
For administrative purposes only we are known as The Dog School UK (Cheshire) for the purposes of the GCDS scheme.
The spirit of the scheme is to help promote responsible dog ownership and so is a dog training scheme (the largest of its kind in the UK) for both dogs and their owners to participate in.
Both puppies and dogs can participate on the Bronze level and then dogs participate in Silver and Gold levels.
Each level progressively builds on the skills and training learnt and practised at the previous level; and each level is tested via specific exercises during the last week of each course.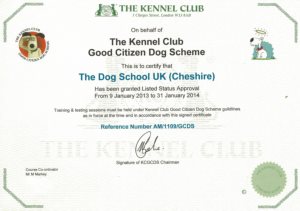 A Certificate will be awarded when the required standard at each level has been achieved and tested.
Our certificate is here – as mentioned previously, for the purposes of GCDS we are listed as "The Dog School UK (Cheshire)". Whilst there may be other dog schools in your local area in Cheshire, offering Kennel Club GCDS, we'd love to see you and your dog at our classes!
We have – of course – much more information on the Kennel Club GCDS webpage.
The following two tabs change content below.
cds
Cheshire Dog School (CDS) has taught puppy & dog training classes at a number of venues in Warrington since 2011, as well as private 1:1 lessons, Telephone & Skype training. Additionally, we operate the Kennel Club Good Citizen Dog Scheme and run various events, workshops & seminars.