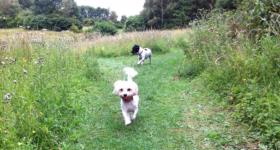 Does your dog enjoy chasing squirrels, cars, bikes, other dogs etc? Well, we have just added a "must-do" brilliant new seminar for November in Runcorn: 'How to Change Predatory Chase Behaviour in Dogs'. Taught by David Ryan this seminar looks at the reasons dogs chase, and how we can train the behaviour out of dogs.
David Ryan followed 26 years as a police dog handler and Home Office accredited training instructor with a postgraduate Diploma in Companion Animal Behaviour Counseling, with distinction, from Southampton University, an internationally recognised centre of excellence for animal behaviour studies. In 2008 he was certificated as a Clinical Animal Behaviourist by the prestigious Association for the Study of Animal Behaviour.
He was chair of the Association of Pet Behaviour Counselors from 2009 to March 2012 and currently works as a companion animal behaviour consultant, being an independently vetted member of the UK Register of Expert Witnesses since 2008.
He has been invited at various times to lecture to the Companion Animal Behaviour Therapy Study Group, BSc Animal Behaviour Students at Bishop Burton College and Myerscough College, and Pet Rescue/re-homing Centres, including Battersea Dogs and Cats Home, Merseyside Dogs Trust and Wood Green Animal Shelter. He is currently a guest lecturer on Newcastle University's MSc in Applied Animal Behaviour and Welfare.
David's unique blend of practical experience and theoretical knowledge of canine behaviour fuel his particular interest in inherited predatory motor patterns and the lengths to which pets will go to find a way to express them, usually despite their owners' best efforts
Programme:
Introduction – What is predatory chase? Why and what dogs chase, and the consequences of changing the behaviour;
Training for change – explaining the reasons for the behaviour modification programme;
Implementing change – the full behaviour modification programme;
Conclusion – wrapping it up with final questions from the delegates.
Date: Saturday 30th November
Time: 9:30am – 4:30pm
Cost: £40 per person
Venue: Weston Primary School, Runcorn, WA7 4RA (this is the same venue as our Runcorn based Puppy Training Classes)
Limited spaces. Must be pre-booked.
The following two tabs change content below.
cds
Cheshire Dog School (CDS) has taught puppy & dog training classes at a number of venues in Warrington since 2011, as well as private 1:1 lessons, Telephone & Skype training. Additionally, we operate the Kennel Club Good Citizen Dog Scheme and run various events, workshops & seminars.