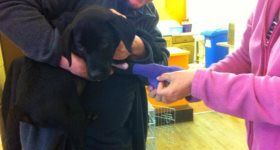 If you own a dog, or work with dogs, this workshop is a must-do!
Here is CDS partner Mike's puppy Rome (11 weeks old at the time) getting in on the action at our previous Canine First Aid Seminar – by allowing participants to bandage her paws!
After the success and popularity of our first workshop – where everyone enjoyed themselves and learnt vital skills which could save a dogs life – we are pleased to host our second Canine First Aid Workshop, taught by Rachel Bean Rvn. This time it's at our Runcorn base at Weston Primary School.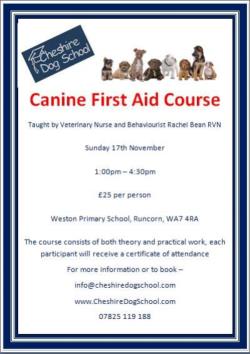 The workshop involves both theory and practical work, using real dogs, to ensure that attendees gain good knowledge and essential skills.
No prior knowledge is necessary.
Each participant will receive a certificate of attendance.
Date: Sunday 17th November
Time: 1:00pm – 4:30pm
Cost: £25 per person
Venue: Weston Primary School, Runcorn, WA7 4RA
Limited to 12 spaces. Must be pre-booked.
For more information or to book, email: info@cheshiredogschool.com
or call: 07825 119 188.
The following two tabs change content below.
cds
Cheshire Dog School (CDS) has taught puppy & dog training classes at a number of venues in Warrington since 2011, as well as private 1:1 lessons, Telephone & Skype training. Additionally, we operate the Kennel Club Good Citizen Dog Scheme and run various events, workshops & seminars.