Training Tip – Multi-Dog Households
We often get asked the "do's" and "do not's" of training more than one family dog or training a new puppy in a house with other dogs. The most important piece of advice and training tip we can give  is make sure that you spend time with each dog individually, and train them individually as much as possible.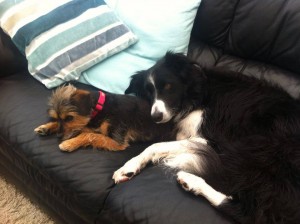 Many people think that the older dog will teach the younger dog how to behave but this isn't often the case. You need to ensure that both dogs have a stronger bond with you than they do each other and you need to ensure that each dog is confident dealing with new situations alone, without their playmate. Make sure your dogs meet new dogs and people, and experience new environments without their playmate to draw their confidence from.
Try and spend a few minutes several times a week (daily if you have a young puppy or new rescue) with each dog individually, whether it is training or playing. Teach your dogs how to walk well on a loose-lead separately, before you try and teach them to do it together. We see lots of dogs who don't know how to 'be' as an individual, as they always have their household siblings with them. Sometimes this can cause major problems further down the line if circumstances force the living situation to change.
Owning more than one dog can be a lovely experience, but life will be so much easier for you, and your dogs in the long run, if they are self-confident and happy to face the World standing on their own four paws!
The following two tabs change content below.
Ami Sekhon is the owner of Cheshire Dog School, which offers dog obedience training, workshops, home visits and much more in and around Warrington, Cheshire. Ami has been involved in dog training for many years and she also enjoys successfully competing with her own dogs in Agility and other dog sports. In 2016 Ami won the Enterprise Vision Award in the North West in the Training and Coaching Category and is a 2017 finalist for the Solo Business award.
[more]
Latest posts by Ami Sekhon (see all)