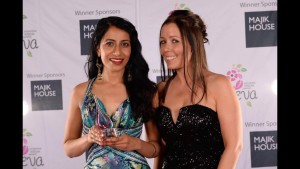 I won!
I had been so thrilled to reach the finals of the Enterprise Vision Awards for Women In Business 2016 , in the Training and Coaching category, that on the evening of the awards ceremony in Blackpool I was just really pleased and proud to be there!
Then my name was called and it was amazing – I can't thank enough all those who voted for me and had faith in me – the messages of support have been overwhelming! My family and friends have been incredible.
One of my main focuses is on training people to train their own dogs and I hope this award goes some way to underline that.
I'd also like to extend my congratulations to everyone else in the category – what an esteemed group of people and any one of them could have won.
We'll be celebrating in class with cakes!
The following two tabs change content below.
Ami Sekhon is the owner of Cheshire Dog School, which offers dog obedience training, workshops, home visits and much more in and around Warrington, Cheshire. Ami has been involved in dog training for many years and she also enjoys successfully competing with her own dogs in Agility and other dog sports. In 2016 Ami won the Enterprise Vision Award in the North West in the Training and Coaching Category and is a 2017 finalist for the Solo Business award.
[more]
Latest posts by Ami Sekhon (see all)