Cheshire Dog School is pleased to host David Ryan's highly informative seminar 'The Holistic Nature of Canine Behaviour Problems'.
Behaviour and training problems are often directly linked to the expression of normal behaviour patterns of the domestic dog, but what is "normal" domestic dog behaviour? This one day seminar explores the true nature of dogs, how their inherited patterns of behaviour contribute directly to their ability to cope with modern life, why training and behaviour problems develop and the principles that can be applied to change those behaviours for the benefit of dog and owner alike. Including case studies, anecdotes and the opportunity for audience discussion.
Ideal for both Dog Professionals and Dog Owners interested in learning about behaviour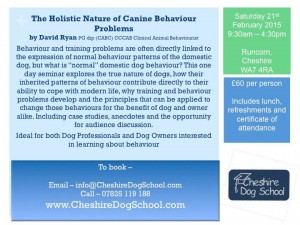 David Ryan followed 26 years as a police dog handler and Home Office accredited training instructor with a postgraduate Diploma in Companion Animal Behaviour Counselling, with distinction, from Southampton University, an internationally recognised centre of excellence for animal behaviour studies. In 2008 he was certificated as a Clinical Animal Behaviourist by the prestigious Association for the Study of Animal Behaviour.
He was chair of the Association of Pet Behaviour Counsellors from 2009 to March 2012 and currently works as a companion animal behaviour consultant, being an independently vetted member of the UK Register of Expert Witnesses since 2008.
He has been invited at various times to lecture to the Companion Animal Behaviour Therapy Study Group, BSc Animal Behaviour Students at Bishop Burton College and Myerscough College, and Pet Rescue/rehoming Centres, including Battersea Dogs and Cats Home, Merseyside Dogs Trust and Wood Green Animal Shelter. He is currently a guest lecturer on Newcastle University's MSc in Applied Animal Behaviour and Welfare.
David's unique blend of practical experience and theoretical knowledge of canine behaviour fuel his particular interest in inherited predatory motor patterns and the lengths to which pets will go to find a way to express them, usually despite their owners' best efforts.
Date: Saturday 21st February 2015
Time: 9:30am – 4:30pm
Cost: £60 per person
Includes lunch, refreshments and certificate of attendance
Venue: Weston Primary School, Runcorn, Cheshire WA7 4RA
Limited spaces. Must be pre-booked.
For more information or to book –
email: info@CheshireDogSchool.com
call: 07825 119 188
The following two tabs change content below.
Ami Sekhon is the owner of Cheshire Dog School, which offers dog obedience training, workshops, home visits and much more in and around Warrington, Cheshire. Ami has been involved in dog training for many years and she also enjoys successfully competing with her own dogs in Agility and other dog sports. In 2016 Ami won the Enterprise Vision Award in the North West in the Training and Coaching Category and is a 2017 finalist for the Solo Business award.
[more]
Latest posts by Ami Sekhon (see all)