Congratulations to the latest group of puppies (and owners) who successfully completed the Kennel Club Puppy Foundation course.
From left to right we have:
Archie, B-Dog, Chester, Lance, Woody, Muffin and in the foreground is Bunty, winner of the final week Challenge competition.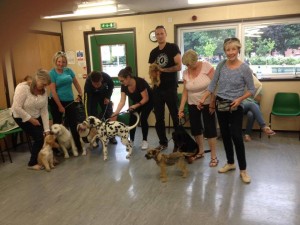 As always, another great group of dogs with a range of breeds, sizes and lovely personalities – great fun to teach.
It is so important to make the most of this puppy stage for training, interaction and bonding with your pup. This is the best time to build a positive approach for the life-time relationship between owners and their dogs.
Well done to this group for progressing so well!
Really looking forward to seeing those who are going on to our Improvers class.
The following two tabs change content below.
Ami Sekhon is the owner of Cheshire Dog School, which offers dog obedience training, workshops, home visits and much more in and around Warrington, Cheshire. Ami has been involved in dog training for many years and she also enjoys successfully competing with her own dogs in Agility and other dog sports. In 2016 Ami won the Enterprise Vision Award in the North West in the Training and Coaching Category and is a 2017 finalist for the Solo Business award.
[more]
Latest posts by Ami Sekhon (see all)