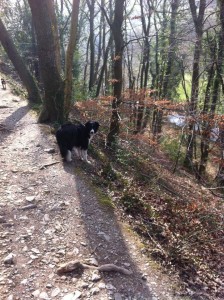 Think about how, when, why and where you say your dog's name. We can often fall into the trap of over-using our dog's name, which can make it become meaningless. As a dog training tip, try and keep your dog's name special.
When we say their name they should pay us attention. If your dog's name get said often but is often ignored, then think about a nickname or a shortened version for them, one which you can keep for when you really need their attention. A great, enthusiastic response to name is a basic fundamental for all training!
The following two tabs change content below.
Ami Sekhon is the owner of Cheshire Dog School, which offers dog obedience training, workshops, home visits and much more in and around Warrington, Cheshire. Ami has been involved in dog training for many years and she also enjoys successfully competing with her own dogs in Agility and other dog sports. In 2016 Ami won the Enterprise Vision Award in the North West in the Training and Coaching Category and is a 2017 finalist for the Solo Business award.
[more]
Latest posts by Ami Sekhon (see all)