We are pleased to be hosting an Introduction to Competitive Obedience Workshop, by Carole Thornley.
Are you interested in finding out what is involved in Competitive Obedience?
Would you like to learn a new skill to make your at-home training with your dog more interesting?
Would you like to add more precision to your recalls, heel work and retrieves?
Are you interested in seeing what a GCDS Special Pre-Beginner Obedience Stakes competition is all about?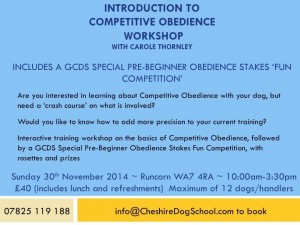 The morning of the workshop involves a hands-on training workshop, where you and your dog will work through the exercises, gaining tips and individual feedback on how to progress your training.
The afternoon will involve putting your new skills to the test in a fun GCDS Special Pre-Beginner Obedience Stakes just-for-fun competition. Includes rosettes and prizes.
£40 for the full day workshop, includes lunch and refreshments.
Maximum of 12 dogs/handlers
10:00am – 3:30pm
Weston Primary School, Runcorn, WA7 4RA
Sunday 30th November 2014
Call 07825 119 188 or email info@CheshireDogSchool.com to book
The following two tabs change content below.
Ami Sekhon is the owner of Cheshire Dog School, which offers dog obedience training, workshops, home visits and much more in and around Warrington, Cheshire. Ami has been involved in dog training for many years and she also enjoys successfully competing with her own dogs in Agility and other dog sports. In 2016 Ami won the Enterprise Vision Award in the North West in the Training and Coaching Category and is a 2017 finalist for the Solo Business award.
[more]
Latest posts by Ami Sekhon (see all)