Would you know what to do if your dog was injured whilst out on a walk? Would you know what to do if your dog was choking or suddenly became very ill?
This is the third time we have hosted this Canine First Aid workshop, we have had several emails from people who have attended previous workshops, saying how they have had to use their new-found skills on their pet dogs. It is not exaggeration to say that lives have been saved because of this workshop!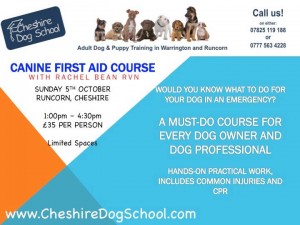 Come along a learn skills which you will have with you for the rest of your life – if you own a dog, or work with dogs, this workshop is a must-do!
The workshop involves both theory and practical work, using real dogs, to ensure that attendees gain good knowledge and essential skills.
Ideal for both dog owners and professionals who work with dogs.
No prior knowledge is necessary.
Each participant will receive a certificate of attendance.
Date: Sunday 5th October
Time: 1:00pm – 4:30pm
Cost: £35 per person
Venue: Weston Primary School, Runcorn, WA7 4RA
Limited to 12 spaces. Must be pre-booked.
For more information or to book –
email: info@cheshiredogschool.com
call: 07825 119 188
The following two tabs change content below.
Ami Sekhon is the owner of Cheshire Dog School, which offers dog obedience training, workshops, home visits and much more in and around Warrington, Cheshire. Ami has been involved in dog training for many years and she also enjoys successfully competing with her own dogs in Agility and other dog sports. In 2016 Ami won the Enterprise Vision Award in the North West in the Training and Coaching Category and is a 2017 finalist for the Solo Business award.
[more]
Latest posts by Ami Sekhon (see all)