***Coming soon***with qualified animal therapist Gail Baker, a must do for any active dogs, especially working dogs (Agility, Flyball, Obedience, Rally, Breed Showing etc) –
Canine athlete conditioning class (once a month class)
These classes are aimed at any dog/handler at any level of competitive sport.
All our dogs are built differently and because of this their bodies will have strengths and weaknesses. These classes are aimed at targeting their weaknesses and making the whole body strong and balanced to help prevent injury in our pets. There is nothing worse than our dogs having injuries and with some we can prevent or reduce the intensity of these injuries.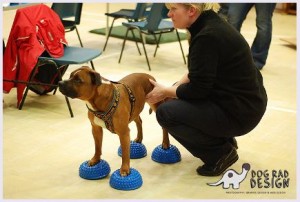 At the initial session all dogs, will be photographed standing to calculate their angulation, given muscle balance checks, muscle measurements taken and a general profile taken, this will give us the areas which we need to target specific to your dog. During the main class session you will learn specific exercises which will help to strengthen your dog specifically in the areas he/she needs it.
You will then re attend and we can re assess their progress and give more advanced exercises for your dog, they may be strength exercises, endurance activities or cross training exercises.
This is a great chance to look at your dog and create a plan to creating a well balanced, conditioned athlete, it will enable more stamina and strength and can help prevent some injuries.
The following two tabs change content below.
Ami Sekhon is the owner of Cheshire Dog School, which offers dog obedience training, workshops, home visits and much more in and around Warrington, Cheshire. Ami has been involved in dog training for many years and she also enjoys successfully competing with her own dogs in Agility and other dog sports. In 2016 Ami won the Enterprise Vision Award in the North West in the Training and Coaching Category and is a 2017 finalist for the Solo Business award.
[more]
Latest posts by Ami Sekhon (see all)