Puppy and Dog Group Training
(For dogs under 20 weeks of age)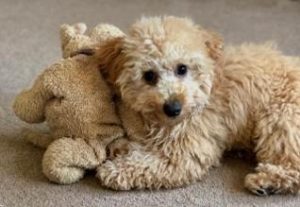 The earlier you start the training, the better – this helps build excellent puppy manners as early as possible! Puppies can start their Puppy Foundation Obedience as soon as they have completed their vaccinations.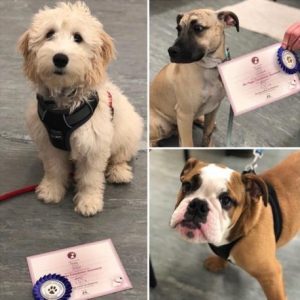 Our Puppy Foundation Obedience Course:
> has set start dates
> lasts for 5 weeks
> runs for 50 minutes per class
> has small-sized classes to ensure that you and your dog receive plenty of individual attention
Your puppy must have completed their vaccinations and be aged 20 weeks old or under at the course start date.
Successful completion of the Puppy Foundation Obedience Course will result in your puppy being awarded the Kennel Club Puppy Foundation Award, with a rosette and certificate.
During this puppy training course we cover:
Bite Inhibition (nipping / mouthing)
Socialisation with others dogs and people
Sit, Down, Stay and attention
Come when called
Walk on a lead without pulling
Calming and handling
Off Lead household manners / obedience
Leave It (no stealing)
Play, Fetch and Drop
Manners at doorways and around food
Greet people without jumping up
Puppy behaviour talk – play biting, toilet training, jumping, chewing, crate training, nutrition, stealing and more.
As usual, there is plenty of advice and puppy training tips on all aspects of raising a happy and well trained puppy. Plus we have a flexible approach – so tell us if there is something specific you would like us to concentrate on with your pet.
We also teach lots of fun tricks and games to play with your puppy during our puppy training sessions, which all helps with his confidence and general good manners around people and other animals. Of course it also helps the owner – YOU – be more confident in your puppy's obedience and good behaviour when you are around friends and guests in your home.
Heard of the term "Puppy Socialisation"? Much of what we have covered above can be classed as Puppy Socialisation. However we'll give you plenty of advice on this subject and what you can do to help introduce puppy to the big, wide, wonderful, noisy, smelly (and sometimes dangerous) world out there!
What you need to know:
Please get in touch with us to find out when the next Puppy Obedience Foundation course begins.