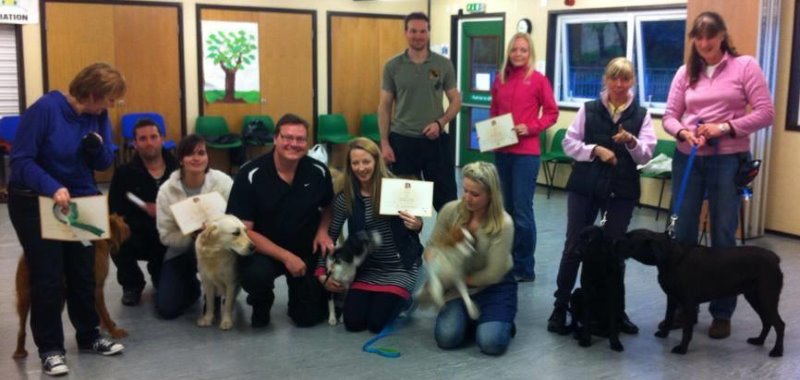 We are very proud to have Kennel Club Listed status; as a result we operate the Kennel Club Good Citizen Dog Training Scheme (GCDS) for the Bronze, Silver and Gold level awards under the Kennel Club listed name of "The Dog School UK (Cheshire)".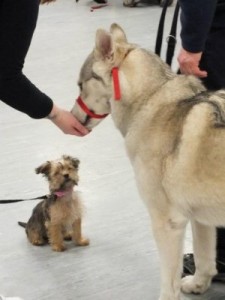 Each level progressively builds on the skills and training learnt and practised at the previous level; and each level is tested via specific exercises during the last week of each course.
The spirit of the scheme is to help promote responsible dog ownership and so is a dog training scheme (the largest of its kind in the UK) for both dogs and their owners to participate in. Our classes are fun, relaxed and friendly – a fabulous way for both you and your dog to socialise – and yet they maintain the focus of training the skills and techniques that will help your dog evolve into a happy, socialised and responsible good citizen.
As a result, the relationship between you and your dog will blossom and grow – and in turn the wider community can also see the wonderful benefits of responsible dog ownership.
A Certificate will be awarded when the required standard at each level has been achieved and tested.
Our Kennel Club Good Citizen Dog Scheme training:
runs for 50 minutes per class
has small-sized classes to ensure that you and your dog receive plenty of individual attention
Has a pre-requisite: The classes can be attended by puppies and dogs who have completed either Cheshire Dog School's Puppy Foundation Obedience course or the Adult Dog Beginners Obedience; OR puppies and dogs who have undertaken basic training previously at another dog training school and wish to further their training.
Puppies and dogs do NOT have to be Kennel Club registered or be pedigree to attend classes.
What's the difference between Bronze, Silver and Gold Awards?
(Please Note: these descriptions are taken from the Kennel Club Website)
The Bronze Award is aimed at ensuring owners understand their dog and can effectively train it. As a result dogs should be able to walk and behave well on a lead, under good control of their owner, including when in and around other people and dogs. The dog will be able to "stay" and come to hand and when called. It must allow its owner to clean and groom it – and also inspect it in whatever position the owner wants (e.g. standing or sitting / lying down etc., on its lead).
The Silver Award builds naturally on the skills learnt in the Bronze award level albeit with an increased level of difficulty; and helps consolidate the owners understanding and training of their pet. New "real life" situations are introduced such as playtime, walking along a road and getting into and out of the family car. Exercises tested include the owner remaining in control of their dog when there are distractions and ensuring the dog does not jump up when greeting friends.
The Gold Award is the highest level of achievement within the Kennel Club GCDS. It builds naturally on the skills learned in the Silver award level. It aims at greater understanding and control for the owner and helps develop more advanced training skills for both dog and owner. Exercises tested include the dog walking free off lead, close to their owner; sending the dog to its bed; waiting for permission to eat food & testing that the dog is happy to be left in isolation for between 2-5 minutes.
As the Kennel Club also states: "Responsibility & Care accompanies all levels of the Scheme and educates owners about responsibilities to their dog and the community".
Kennel Club Rosettes
As well as receiving a certificate on achieving the award, Kennel Club Rosettes are available for purchase:
Rosettes for the Bronze Level Award cost £2
Rosettes for the Silver and Gold Level Awards cost £3
Why choose us for your GCDS training?
Dog Training schools cannot operate the Good Citizen Dog Scheme (GCDS) without approval and certification from the Kennel Club itself. This is something you, as a responsible dog owner, can check when choosing your trainer.
Our certificate is here – for the purposes of GCDS we are listed as "The Dog School UK (Cheshire)". Whilst there may be other dog schools in your local area and in Warrington offering GCDS training, we'd love to see you and your dog at our classes!
We believe that the passion we have for training your pet, mixed with a healthy balance of experience, qualifications and fun, make us the perfect choice for you and your dog.
The pass rate that our pupils have achieved so far is fabulous and a real testament to their commitment and their enjoyment of our classes.
But don't take our word for it! We are very open and honest about our training and our pupil's success – take a look at our public facebook page here and assess for yourself. As you can see, we are open to comment and we have our pupils' permission to share photos and videos of their training online, to encourage others to come and join the fun too!
Kennel Club Good Citizen Dog Scheme:
Bronze Level Examiner
Ami from Cheshire Dog School has passed the Kennel Club Good Citizen Examiner Assessment Course and is now an approved examiner for the Bronze level.
This means that Ami can examine the Bronze Award for other clubs, and for CDS dogs who have not been taught Obedience by us.
What you need to know:
Spaces are limited so must be booked in advance
Has set start dates for each level (bronze, silver, gold)
Lasts for 6 weeks (the test is held on week 6)
Runs for 50 minutes per class
The cost of the course is £90
The location and days/times of the course are:
Please get in touch with us to find out when the next Good Citizen courses begin.
---
Please note that for the purposes of the Kennel Club Good Citizen Dog Training Scheme, Cheshire Dog School is listed as "The Dog School UK (Cheshire)".
This is simply for administrative purposes, ensuring that we are not confused with other reputable training schools and clubs who legitimately operate the GCDS in the Cheshire area.
---